Neurology consultations are provided by Doctor Paul ALIZE.
Express Curriculum Vitae:
Graduated from the faculty of Toulouse Paul Sabatier University in 1996
Head of department Montpellier Hospital 97 to 99
Head of department Avignon Hospital 99 to 2004
Head of the Bagneuls / Ceze hospital service 2004 to 2010
Private practice Avignon from 2000 – 2019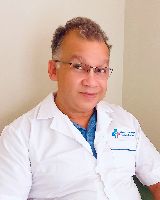 What pathologies are taken care of by a neurologist?
Neurology is the medical specialty focusing on the diagnosis and treatment of conditions that affect the brain and nervous system, as well as the spinal cord, blood vessels, muscles, and nerves. These conditions are treated by physicians in two related specialties: neurology services and neurosurgery.
Should you experience
⚠️ Neuropathic pain
⚠️ Migraines
⚠️ Seizures
⚠️ Brain or spinal cord injury.
⚠️ Multiple sclerosis
⚠️ Parkinson's disease
⚠️ Previous stroke
⚠️ Serious memory issues,
don't hesitate to contact us through Messenger, by email info@european-medicare.com or by phone: 012 634 115 or 011 811 175.